Pembrokeshire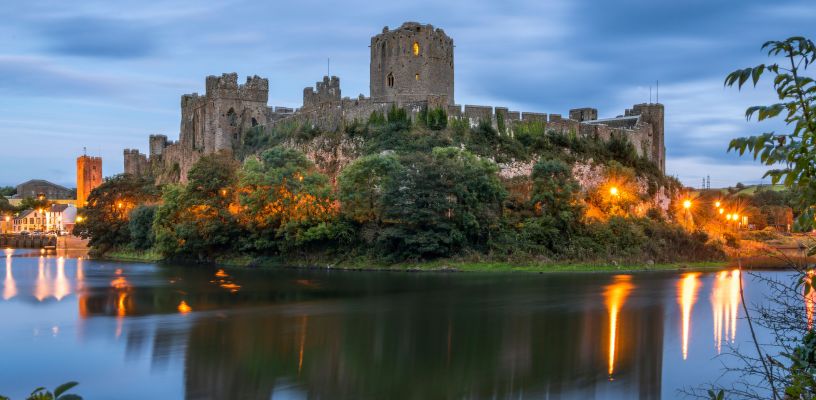 Let us help you plan your ideal vacation in Pembrokeshire...
There is something about the clean air in Pembrokeshire, like that of Cornwall, that gives the light a quality loved by artists. They are also fortunate that the scenery is so attractive that there is never a shortage of subjects. The small village of Dale, at the mouth of the Milford Haven waterway was once holder of the record as sunniest place in mainland Britain. Although there are lots of other claims to the title, there is no doubt that Pembrokeshire, this "little bit of England beyond Wales" (locals do not speak Welsh!), has an extremely sunny climate. Not surprising then is the popularity of the "resort" towns of Tenby and Saundersfoot.
The coastal scenery is so magnificent and the birdlife so abundant that much of the coast was designated as the Pembrokeshire Coast National Park.
The nearby offshore islands of Skomer, Skokholm and Grassholm are bird sanctuaries of international importance and a 15-minute boat ride on the Dale Princess will take you to Skomer, the nearest of the islands where you can see puffins, guillemots, razorbills and Manx shearwaters at close quarters. Grey seals can be seen all year round but if you want to see their white fur-coated pups, you will need to visit from late August. The more adventurous can take an exhilarating high-speed Sea Safari ... waterproofs advisable!
Inland, Pembrokeshire is dominated by the Preseli Hills, probably most famous as the source of the "blue stone" taken from there 4000 years ago by our forefathers to create the inner sanctum of Britain's best known ancient monument - Stonehenge.
Why was this particular stone chosen? How did the people building Stonehenge even know of its existence? How did they extract and shape the stones? How did they transport them from Preseli Hills to their present location? English Heritage have some interesting facts.
Norman occupation in the south is evident by medieval castles and Norman churches, while the north of the county is dotted with cromlechs, burial chambers, standing stones and the Iron Age forts of prehistoric settlers.
The county's main geographic feature is the Milford Haven waterway. This vast expanse of tidal water is home to oil tankers, sailing dinghies and windsurfers. The oil and gas terminals, though industrial, do not damage the beauty of the county and, at night, their myriad of lights make them look almost beautiful themselves. Watersports are popular with several windsurfing and sailing schools for those wishing to learn.
Pentre Ifan, probably the most photographed cromlech in Wales. Thought to be over 2500 years old, with a capstone weighing over 16 tons, this was originally a Neolithic burial chamber and was probably covered by a long mound.
Things to Do
While its scenic beauty and many natural attractions are renowned - Pembrokeshire also has no shortage of leisure parks and places of interest - catering for family holidays such as Oakwood Theme Park which now has the biggest wooden roller coaster in Europe; Folly Farm - Wales' premier farm attraction, hugely popular with children; Great Wedlock Dinosaur Park, wildlife parks, country sports park, numerous golf courses, craft and leisure centres and many more designed as alternatives to the beach. your interest or the weather, it's hard to imagine that you would ever be stuck for something to do in beautiful Pembrokeshire.
Tourist Net UK gratefully acknowledges the assistance given by Pembrokeshire Council Tourism Marketing Officer, Catherine Lawrence, in the compiling of the information on this area:
Read More