Norfolk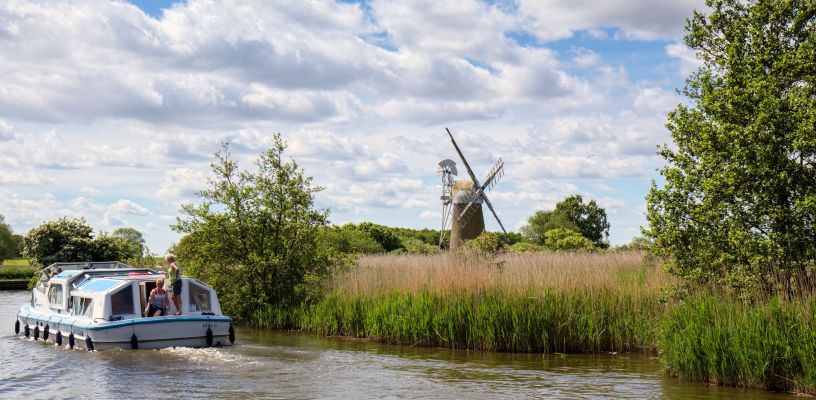 Let us help you plan your ideal vacation in Norfolk...
The Norfolk Broads is a very special area of interest with expanses of open water, marshes, fens and waterways filled with flora and fauna specially adapted for their habitat.
The Broads is an area where the visitor can enjoy a holiday ashore or afloat in one of Britain's finest national parks.
Unlikely as it might seem, the poppy-strewn county of Norfolk, with its ruined abbeys, breeze-blown windmills, flint cottages and patchwork fields, was once one of Britain's most heavily populated regions.
That was in the market-led Middle Ages when many of East Anglia's inhabitants earned their wages through the burgeoning trade in wool, an industry sparked by the skills of Flemish émigrés.
Today, however, this fertile, low-lying county that juts out into the North Sea like the head of a tonsured monk, is concerned far more with tourism than clothing.
It certainly possesses some of East Anglia's finest landscapes and within its boundaries lie the misty Fens, beautiful Breckland and the glorious waterways and rare wildlife of the stunning Norfolk Broads.
History oozes from its myriad villages and it was here in the 1st century that the war-like Iceni tribe led by their avenging Queen Boudicca revolted against the Romans, destroying the cities of Colchester, St Albans and London.
Later Norfolk became part of a stronghold of the Saxons and the Danes who left behind a magical legacy and many curious place-names. The county has all the ingredients of a typically English holiday experience, a package that includes some of Britain's best beaches - with traditional resorts such as Sheringham, Cromer and Great Yarmouth - and a huge number of attractions, from a lavender centre to cider breweries, steam trains and great gardens.
No visit would be complete without a trip to the most famous of Norfolk's 'stately homes', the royal hideaway of Sandringham House. Equally impressive is the superb Norman Cathedral of the Holy Trinity at Norwich, built using Caen stone brought on barges from France.
In contrast, the ancient village of Walsingham, where an 11th century shrine still draws pilgrims to the 'Nazareth of England', is a 'must-see'. Nearby stands the magnificent Holkham estate and its fabulous Palladian hall, packed to the rafters with invaluable paintings, art and furniture.
The countryside encompasses heaths, grassland, marshes, mudflats and wetlands and is the perfect environment for all manner of activities, from windsurfing and sailing to cycling, horse riding, birdwatching – and walking; the Peddars Way trail, the Angles Way and the Weavers Way are just three of the county's scenic long-distance walks.
At the heart of Norfolk lies its capital city combining the amenities of a modern metropolis with the allure of living history. An architectural masterpiece, Norwich is Britain's most complete medieval city, full of museums, historic pubs, cobbled streets, half-timbered houses and medieval lanes. It has its own Norman castle and more than 30 medieval churches within old city walls.
King's Lynn's guildhall museum contains some of the greatest treasures in Britain, including one of the oldest paper books and the 700-year-old silver and enamel King John. On the outskirts is Houghton Hall, former home of England's first Prime Minister, Robert Walpole.
The protected Norfolk Broads were created by medieval folk digging for peat. The area was later flooded and in Victorian England these remarkable waterways were used like canals for transporting heavy goods. Here are quaint, waterside villages where boating, angling and thatching have become a way of life. Nature lovers flock here to see the rare bittern and swallowtail butterfly.
North of the Broads is the pretty village of Burnham Thorpe, birthplace of the region's most famous son, Vice Admiral Horatio Nelson. He spent his childhood in the village, joining the Royal Navy when he was only 12.
Luckily for his country, he learned to sail at nearby Brancaster Staithe and it was while receiving the Freedom of the Borough at Great Yarmouth that he met Lady Hamilton.
This occasion is recorded at the town's Nelson Museum – just one of Norfolk's many momentous moments.
Read More