Lake District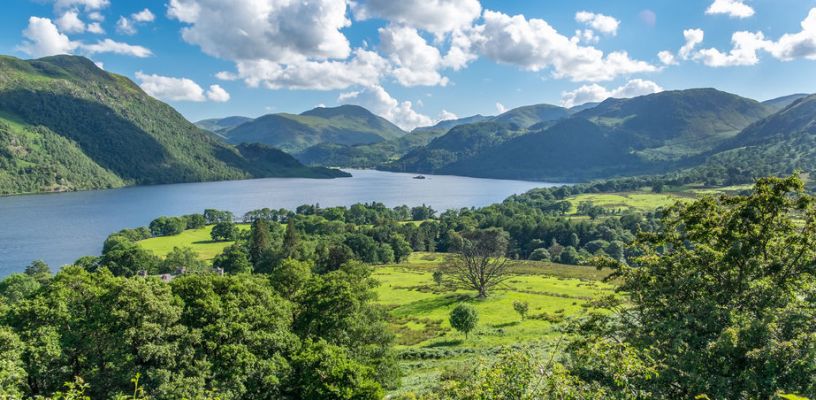 Let us help you plan your ideal vacation in The Lake District...
Very few places in Britain can hope to compete with the undeniable beauty and romance offered by the county of Cumbria.
England's second largest county – and its least populated – has a sense of wonder unequalled elsewhere thanks to its inspirational landscape, which can smile, brood or blaze depending on the season.
Much of its appeal stems from the magnificent Lake District National Park and a range of steely mountains that stand guard over a veritable treasure trove of crowd-pleasing attractions.
This dazzling region covering almost 900 square miles contains no less than 16 'great' lakes as well as tarns, glacier-gouged valleys, chocolate-box villages – and even some marvellous beaches. It also boasts England's five highest mountains and the country's deepest lake.
Dotted across the land, both high and low, are ancient stone circles and barrows, the remains of Roman forts and the remnants of once-important industries such as lead mining and charcoal burning. There are lots of castles, too, not to mention historic houses and abbeys, steam railways, old mills and Carlisle's medieval cathedral.
Cumbria is bounded by the Solway Firth in the north and the Irish Sea to the west. The county borders Northumberland, Yorkshire, and Durham and includes part of the northern Pennines. It was created in 1974 out of the former counties of Westmorland, Cumberland and part of Lancashire. In past millennia it has been a sea, a swamp and a desert and, geologically speaking, only emerged in its present form comparatively recently.
It was left to men such as Thomas Gray and John Gilpin to describe its full glory and put it on the traveller's map. Then the poets William Wordsworth, Samuel Taylor Coleridge and Robert Southey inspired the British public to discover its true value.
Wordsworth, who was born at Cockermouth and educated at Hawkshead, made his home at Dove Cottage in Grasmere, while his friends Coleridge and Southey moved to Great Hall at Keswick. Although the three 'Lake Poets' unashamedly championed the region, they lived to regret their passion – the arrival of the railways sparked an invasion of their personal paradise.
The Ice Age created the Lake District, grubbing out huge valleys and creating lakes such as Windermere, Coniston and Ullswater. Today these vast expanses are playgrounds for anglers, sailors and many other water users. The District was designated as a national park in 1951 but until the 18th century it was comparatively unvisited because such scenic splendour was not seen as an 'ideal' for tourists.
London-born art critic John Ruskin (1819-1900) also became a 'local', living at Brantwood, near Coniston Water while the children's author Arthur Ransome also settled here and penned his book 'Swallows and Amazons'.
The region's landscape also seduced city-born writer Beatrix Potter who bought a farm, Hill Top, in 1905 with money from her famous children's books. Four years later she also bought nearby Castle Cottage – her home for the next 30 years. Her success stemmed from a meeting with Cannon H. Rawnsley of Wray Church whom she met during a holiday to Ambleside as a teenager. It was the Cannon who persuaded Beatrix that her first book was worthy of a wider audience. It was called "The Tale of Peter Rabbit". Such was the influence of the Cannon – a co-founder of the National Trust – and the lure of the Lakes that on her death she left the sum of £200,000, 14 farms and 4,000 acres to the National Trust.
One of Lakeland's boasts is that it contains the mountains of Scafell Pike, Helvellyn and Skiddaw, all standing over 3,000ft and forming the so-called Three Peaks Challenge.
It was on the slopes of Skiddaw that a legendary hunting man went in search of foxes. His name, John Peel (1776-1854), is remembered in a famous song and his resting place lies at Caldbeck.
If you are looking for an unusual way to explore the wonderful scenery, how about this? View the Lake District from the back of a Clydesdale or Shire Horse. Fantastic riding on well-schooled horses which can take you to places high in the fells, on the beach or on farm rides in the valley... all spectacularly beautiful.
Beyond the Lakes, Cumbria has an intriguing coastline and here you will find the industrial town of Whitehaven, the bird-watching haven of St. Bees Head and the seminal, modern edifice that is the Sellafield nuclear reprocessing plant.
Historically, the county's must-see visitor attractions include Carlisle Cathedral – founded in 1122 by King Henry I – and 12th century Cartmel Priory near Grange-over-Sands, one of the finest ecclesiastical buildings in the north of England. Most popular castles include Appleby Castle, which has a 12th century Norman keep – but don't ignore Birdoswald Roman Fort, one of the finest Roman forts along Hadrian's Wall.
Read More